参会嘉宾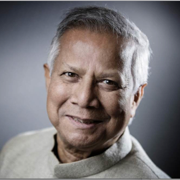 2006 Nobel Peace Prize Laureate, Founder of Grameen Bank, Academic Advisor, CAFI




Professor Muhammad Yunus was born in 1940. He is a Bangladeshi economist and founder of Grameen Bank. He is also honored as Banker to the Poor. He created and developed Grameen microcredit model giving small loans to the poor who has no access to the traditional banks to increase income and to alleviate poverty.




Grameen Bank has served more than 9 million low-income families in Bangladesh. The repayment rate is higher than 99%, which is a miracle in finance industry. Replicas of the Grameen Bank model is operating in 41 countries worldwide including America, Mexico and Turkey, and is benefiting more than 16.88 million low-income families. The Grameen model has been proved as an effective and sustainable approach to alleviating poverty in the world. Along with Grameen Bank, Professor Muhammad Yunus was awarded the Nobel Peace Prize in 2006, for the efforts to create economic and social development




In December 2014, Professor Yunus founded Grameen China to provide financial service and social support network for China's low-income women, and to boost China's Targeted Poverty Alleviation and Rural Revitalization. In 2019, Grameen China established strategic partnership with China Construction Bank and launched 10 branches in Shenzhen, Guangdong province, Shaanxi province, and Henan province.